TV has honestly been my saving grace of 2020. It was one of the few pros of early quarantine, and even now, when there still isn't much to do safely but stay home, it remains a great distraction. This year, I've had the time to try out some prestige TV, revisit old trashy favorites like Four Weddings, 16 and Pregnant, and America's Next Top Model, and discover some unexpected gems.
Up until the summer hit and the glaring uncertainty of the fall TV season was palpable, 2020 really delivered when it came to escapist TV. While I'll refrain from my rant about Peter Weber's Bachelor season cursing the rest of the year (his finale aired just as everything was imploding in March), I feel like 2020 allowed for a new kind of inclusive creativity that hasn't quite happened before.
By that, I mean that there was truly something for everyone. I have no interest in dark, brooding dramas like Ozark and I can't find the energy to commit to a new dating reality show like Love is Blind, but they're there for whoever wants them. I want nothing to do with shows' COVID-adjacent storylines, but they're there if you want them. On the other hand, witty dramedies with smart female characters that delivered a perfect combination of joy and heartbreak? There was an abundance of them this year that I don't think I've seen before.
That being said, I'm still working through popular 2020 favorites like The Queen's Gambit and Normal People, because content that's on the slow, bleaker side isn't really doing it for me now. The common theme among the following favorites is definitely a sense of optimism and happiness.
1) Zoey's Extraordinary Playlist, Season 1
The final scene of this season finale is honestly the most beautiful piece of television I've seen in a really long time (and I cry at a lot of TV!). My parents unexpectedly stumbled upon the premiere episode on their own and loved it, so all of us watching the show together every Sunday became a highlight of our early quarantine. It delivered so much joy but could also crush your heart within a matter of seconds. I'm so excited for its second season premiere on Jan. 5 and its schedule upgrade from a Sunday night slot to Tuesdays.
2) Encore!, Season 1
This was another watch that had me smiling at one scene and sobbing at the next. Each episode follows a different set of adults who reunite to perform their old high school musical for one night only. Even if you're not into theater, just learning about people's backstories and how they viewed themselves and their peers in high school is fascinating and heartwarming. I'm also here for the awkward convos between high school exes, the return of those kids that fell off the grid, and the casts' emotional reunions with their drama teachers. My standout episodes include the Grease, Godspell, Oklahoma!, and Anything Goes ones. 
3) Never Have I Ever, Season 1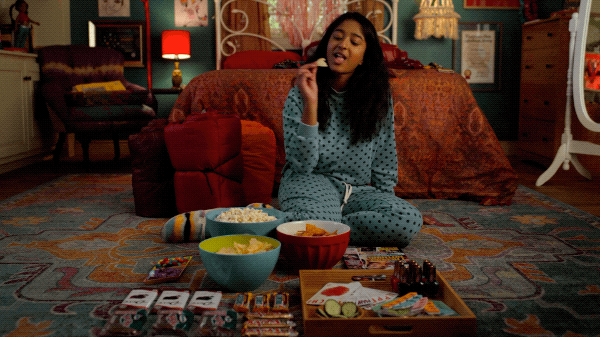 I knew I could count on Mindy Kaling for a home-run series, but I never anticipated the smart, multifaceted layers this show would explore on top of its humor. It actually opened my eyes to female friendships in high school and how we all kind of suck at that age, even if we don't realize it until years later. Never Have I Ever made me realize how self-destructive we can be as teenagers and how that behavior can be so far away from the extreme stereotypes that come to mind with that description. 
4) Unorthodox 
This follows a young woman who grows up in a strict Hasidic bubble in Brooklyn before escaping her arranged marriage and fleeing to Berlin, where she discovers a passion for music and clarity about her past. It's based on a memoir, which I probably would've read in a class with my favorite college professor who was big on books exploring community and its influence. As opposed to similar stories that may highlight the trauma of these experiences, Unorthodox focuses on an uplifting renewal that I found really easy to digest. 
5) The Baby-Sitters Club, Season 1
I was a little snobby about this series before it premiered, believing that there was no way a modern adaptation could capture all the cringe-tastic yet formative charm of the original '90s-centric books. But after finishing this series, I wish there was something like it around when I was in middle school! It's so pure and wholesome without sugarcoating the world, and the young actors are delightful. I also loved how watching it retrieved totally forgotten details about the books from the depths of my memory.
Honorable Mentions
Married at First Sight, Season 11 – Casting was key in how much I ended up loving this season. Without fail, I've always stopped watching MAFS halfway through a run because the contestants are either horrible or boring with no one in between. But most of the New Orleans couples were so likable and entertaining that even the people with iffy edits still ultimately felt like decent humans, which doesn't usually happen. Some of the cast's friendships felt so genuine, and I'm already rooting for a Miles/Bennett spinoff about their adventures together. I'm bracing myself for deep disappointment in the upcoming Atlanta season.  
On Pointe – Docuseries about the arts industry are a total weakness of mine. This one tracks a full year at New York's School of American Ballet before it's cut short due to COVID. It jumps between the school's children division rehearsing for The Nutcracker and its teen students boarding there and preparing for professional lives as dancers. While I'm sure drama comes with the territory IRL, the show really emphasized how grateful these students are for their opportunities and how much they respect the established dancers teaching them.
Lenox Hill – Life-affirming stories about humanity, particularly in New York, were just my kryptonite this year. Even Lenox Hill's pandemic special wasn't as rattling as I feared because of how familiar and comforting its doctors and nurses felt to me. If you need any reminders of how heroic healthcare workers are, watch this ASAP. 
What were your favorites of the year?