In 2014, I wrote a post about the five fictional characters I related to most. Those picks are still solid when it comes to who I identify with, but the more I've watched since then, the more I've seen myself in unexpected ways. You understand different sides of yourself as you grow older, and I feel like the TV characters below have come to represent me in my 20s whereas the picks from my older post feel very much like lifelong representations.
Diana Trout (Younger)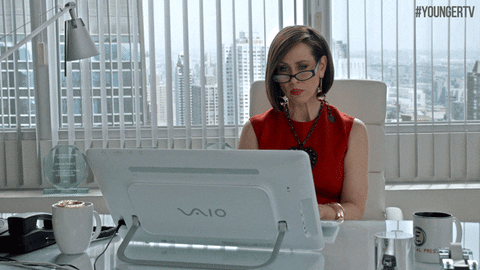 Oh, the odes I could dedicate to this character and her relatability.
Her classy taste in fashion. Her unbridled ambition in publishing and her steely support of female colleagues. Her amazing one-liners about a messy, often non-existent love life followed by monologues devoted to her self-worth in a bad relationship. Some of her quips sound straight from my own internal monologues, and when I binged Younger this summer, I nodded along with so much of Diana's dialogue.
On the other hand, she's also assertive and confident in a way I wish I could emulate, and there's so much to learn from her.  It's so easy for TV to depict the single career woman as a one-dimensional trope, and I think Diana has a fiery depth to her that isn't seen often. It's likely no coincidence, as Younger comes from the same mind behind Sex and the City, one of the most pivotal modern depictions of women onscreen.
Robin Scherbatsky (How I Met Your Mother)
A few years
ago, I was in a bar with two close friends. We met with a guy my friend knew and wanted to fend off with our help, as well as his friend who quickly took to hitting on my other friend. My friends were totally uninterested, but with them in their own conversations, I sat at the end of our table, sipping a gin and tonic and feeling like the lame fifth wheel. One of the guys asked what I was drinking and upon my answer, he joked, "Wow, you're like Robin from How I Met Your Mother."
I don't know if I gave off a stern, independent woman vibe or if it was my choice of drink that inspired him to say this, but I still saw it as a compliment. While a lot of How I Met Your Mother's humor hasn't aged well, I recognize that Robin was still such a strong female character to see in the mid-to-late 2000s. She unabashedly loved her career and she wasn't traditionally girly, but she showed that you could believe something wasn't for you and still feel emotional about it not happening in your life. Robin assured audiences she could take care of herself but sometimes needed a hand to hold, and that's okay. I like to think of myself as independent and ambitious, and Robin reminds me that it's possible to be that way and still have a soft, vulnerable side.
Charlotte York & Miranda Hobbes (Sex and the City)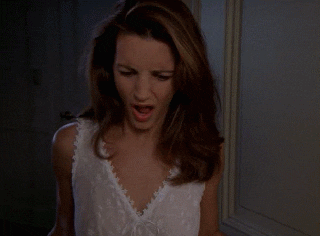 This is a hybrid I don't often see in women's discussions about which SATC characters they resonate with most. Yeah, the combo is a little weird — Miranda's cynical take usually crushes Charlotte's more optimistic, romantic views of love. But the truth is, that's how my perspective on relationships usually plays out. Deep down, I'm a more grounded Charlotte, hoping for an old-fashioned romance with all the fixings and feeling shy about the more modern, risque side of things. This side comes out more in my writing when I'm musing from the mind of a fictional character or feeling like my words are a kind of protective shield.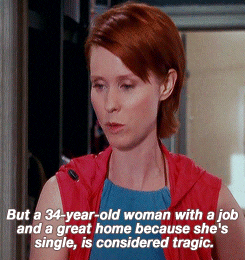 On the outside, I'm a total Miranda. Sarcastic, witty, and a little resistant to the gushy stuff. I can sometimes judge quickly and be a negative nelly, and it may take me a while to warm up to new things. Plus, I wager I may relate to her the most during the Hamptons episode and her sensible beachwear as she pokes fun at a frat bro.
When it comes to love, Miranda's reluctance and Charlotte's firmness reflect each other. They're both unwilling to give up their beliefs and ideals in a way that I think Carrie and Samantha responded to more leniently. Compared to them, Charlotte and Miranda arguably end up in the most stable relationships by the end of the series, and maybe that's because they molded their resolve to fit what life threw their way. I like keeping that message in mind.
What about you? What fictional characters do you relate to most?