The world of TV and movies is a weird one. Not only is it so vast, but the way it cultivates for each person is extremely dependent on the family and life one is born into. This means that everyone's individual pop culture educations have their own unique quirks. An encounter with a TV show or movie that you think is a natural rite of passage isn't as obvious to others, so in a bit of a stream of consciousness, I wrote about my incredibly random experiences with and takes on TV and movies. It's a bit of an indulgent, nostalgic post for my own benefit, but if you have your own thoughts to share, please do!
I'm in my early 20s and grew up watching Family Feud reruns from the 1970s on the Game Show Network. For me, it was all about hilariously outdated outfits and Richard Dawson greeting all of the women with a kiss on the lips. The channel also reran episodes from the '90s that Ray Combs hosted. My understanding of the Steve Harvey generation comes from Kenan Thompson's SNL parody and the briefest clips of Steve Harvey hosting celeb editions.
Every now and then, I binge In Memoriam award show segments on YouTube. When they're well-produced, they're moving, heartfelt, and a huge time capsule of the kind of stars that were fading out in certain decades. For instance, the tributes in the late '90s and early 2000s mostly consisted of stars from Hollywood in the 1930s and '40s, whereas nowadays we typically see actors synonymous with the 1960s and '70s passing away. I'm weirdly particular about what makes a perfect In Memoriam segment (sweeping instrumental music over a live performance, fitting video clips of stars rather than just pictures). I'm inexplicably annoyed when award shows only use photos in these because those just make the whole segment look like a cheap afterthought rather than a genuine tribute.
Going off that, I love CBS This Morning's Hail and Farewell package that the show produces around every New Year's Eve, honoring significant people in various industries who died that year. They're the epitome of grace, class, and astoundingly beautiful writing in news packaging. I am not meant to be on camera, but this kind of news producing is something I'd love to do if entertainment writing doesn't work out.
My family is a situational and personality mix of the Barones from Everybody Loves Raymond and the Hecks from The Middle. Meanwhile, numerous strangers have told us that my dad looks like Al Pacino (and, on one occasion, Jerry Lewis). I didn't really get it until I had to watch a Pacino movie for a college class and essentially looked at my father's exact facial expressions for two hours. We've concluded that however old Al Pacino is at a certain stage, my dad's looks then equate to his from about 10 to 15 years prior.
I live for Alex Trebek's droll snarkiness when he talks to Jeopardy! contestants about their fun facts and personal stories. Also, if I had to narrow down the type of guy I usually like, the answer would probably be "the charming nerd dressed in tweed on Jeopardy!, but preferably British."
In my theory that originated in a conversation with a friend, every man currently on SNL (with the possible exception of Colin Jost, because everyone and Scarlett Johansson gets that one), can be believably described with the phrase "I'm attracted to him but I don't know why." It is only human to have a weird but totally legitimate crush on a SNL guy. I've even been having very odd, recurring dreams about mine lately.
One of my most memorable Oscar moments is when, as I described to my mom, "Captain Von Trapp gave Princess Mia her Oscar." Julie Andrews appearing at the end of Lady Gaga's Sound of Music medley is definitely another favorite.
My "party trick" in high school was correctly naming all of the 19 Duggar kids in age order. Now naming all of the spouses and grandkids would probably require a little more thought, but I think that with the current size of the extended family, I can still pull it off. I keep up with their family news just by organically seeing it online, but whenever another kid's wedding is televised, you can bet my sisters and I are watching it for the snark.
I suppose my most consistent celebrity crush is technically Jimmy Stewart, because I've loved him since I was ten years old. As far as living celebrities, I've had a crush on Aaron Tveit since I was 17. Tom Hiddleston probably comes in as a close second for my longest harboring, but his Taylor Swift saga turned me off for a solid year or so.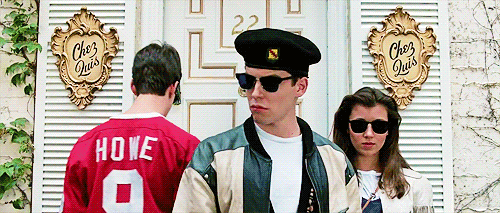 Ferris Bueller's Day Off over The Breakfast Club on any day.
I'm pretty damn good at mentally tracing literally any actor in a British period drama to another British period drama, even if that person is just a background player. In general, I'm quite skilled at recognizing faces of bit actors in new-to-me works and quickly figuring out how I know them.
The first R-rated movie I saw in theaters (and before I was even 17 —what a rebel!) was The King's Speech. Can you tell what kind of teenager I was?
The very literary-based PBS Kids shows of the late '90s and early 2000s inarguably made me the person I am today.
What about you? What random experiences with TV or movies do you have?