Compared to January, February was a slower reading month for me. I was working a lot and had several night shifts, which swallowed up my usual reading time. The month also completely sped by, which I stupidly wasn't expecting! I still think people are recovering from their post-Christmas laziness, but spring is just around the corner.
While I wasn't as satisfied with February's crop of books as much as I was with last month's, I feel very optimistic for March! I just discovered the British author Harriet Evans at my library this week, and she writes contemporary women's fiction primarily set in London and New York, which is right up my alley! I can already sense that some of her books will very easily become favorites over the next few weeks.
But for now, these are the four books I finished in February.
We Were the Lucky Ones, by Georgia Hunter  (★★★☆☆)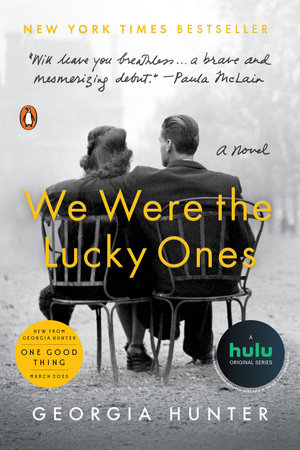 If I could figure out how to make half-star ratings, We Were the Lucky Ones would actually receive 3.5 stars from me. It's based on the author's Jewish family's true experiences in World War II Europe, but to the point of all but one of the characters having their real-life names and there being little to no fictional aspects of the story. It does read like a novel, but jumps forward in time each chapter and includes the POV of nearly every family member.
Despite the nontraditional storytelling, I was definitely invested in finding out what happened in this book and it kept me reading. That being said, chapters would end with characters in very stressful or unpredictable situations, and then the next time you'd hear about the character, it would be anywhere from a few months to a year ahead in time. I think that, although it was very readable, the book did work with too many characters, preventing me from growing particularly attached to any of them individually.
Hourglass: Time, Memory, Marriage, by Dani Shapiro (★★★★★)
This memoir was beautiful. I finished it over the course of a single Sunday and just experienced this odd feeling of sad awe while reading it. Like, I almost felt that I was on the verge of tears throughout the entire book. The author's insight into her own marriage and how love changes over the years was just amazingly portrayed, and I adored her writing style.
I loved Shapiro's book so much that I totally ate up this podcast interview she did about her work. I've yet to find a literary-themed podcast that aligns close enough with my taste for me to keep up with it, but this series was definitely a contender.
My Husband and I: The Inside Story of 70 Years of the Royal Marriage, by Ingrid Seward (★★★☆☆)
This was released in honor of Queen Elizabeth and Prince Philip's milestone wedding anniversary, but given that I'm a bit of a royals fangirl, there wasn't too much in this book that I didn't already know. It does well in explaining the early years of their marriage, but in its second half, the book just seemed to fall back on common knowledge of events like the failures of their kids' marriages and public criticism of the family for their reaction to Diana's death. It committed the big offense that made me give up on the Prince Charles biography,  aka several chapters that go into way too much detail of the elitist, dull elements of the royals' lives (a section on the Queen's horse breeding particularly sticks out to me).
I think I was also expecting more information on Elizabeth and Philip's romance, but seeing as they come from this more reserved, private era, there's only so much that an outside source would even know and be able to write about. If any fans of The Crown want a non-fiction book delving deep into the royals' lives, I'd recommend checking out Sally Bedell Smith's biography Elizabeth the Queen instead.
The Taster, by V.S. Alexander (★★★☆☆)
The Taster is about a German woman in the early 1940s who becomes a taster for Adolf Hitler at his mountain retreat and must check his daily meals for poison. Soon, she becomes involved in an underground plot to kill Hitler, forcing her to consider her own safety and her belief in the romantic connection she has made at the retreat house.
The first half of this book took forever to get through. The plot began very slowly, the writing was originally a lot more "telling" than "showing," and the main character is not the most exciting. In historical fiction, it's easy for a narrator to be kind of bland and get caught up with more interesting people who are the ones trying to change history. Such was the case in The Taster, and the fact that the narrator managed to experience so many different sides of the war in a short amount of time only made her feel like a bit of a Mary Sue.
What about you? What books have you finished recently?