Compared to January, February was a slower reading month for me. I was working a lot and had several night shifts, which swallowed up my usual reading time. The month also completely sped by, which I stupidly wasn't expecting! I still think people are recovering from their post-Christmas laziness, but spring is just around the corner.
While I wasn't as satisfied with February's crop of books as much as I was with last month's, I feel very optimistic for March! I just discovered the British author Harriet Evans at my library this week, and she writes contemporary women's fiction primarily set in London and New York, which is right up my alley! I can already sense that some of her books will very easily become favorites over the next few weeks.
But for now, these are the four books I finished in February.
We Were the Lucky Ones, by Georgia Hunter  (★★★☆☆)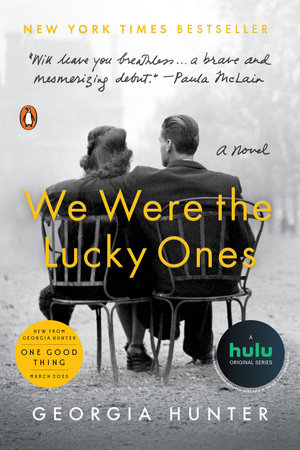 If I could figure out how to make half-star ratings, We Were the Lucky Ones would actually receive 3.5 stars from me. It's based on the author's Jewish family's true experiences in World War II Europe, but to the point of all but one of the characters having their real-life names and there being little to no fictional aspects of the story. It does read like a novel, but jumps forward in time each chapter and includes the POV of nearly every family member.
Despite the nontraditional storytelling, I was definitely invested in finding out what happened in this book and it kept me reading. That being said, chapters would end with characters in very stressful or unpredictable situations, and then the next time you'd hear about the character, it would be anywhere from a few months to a year ahead in time. I think that, although it was very readable, the book did work with too many characters, preventing me from growing particularly attached to any of them individually.